Public Sector & Council Information Labels & Stickers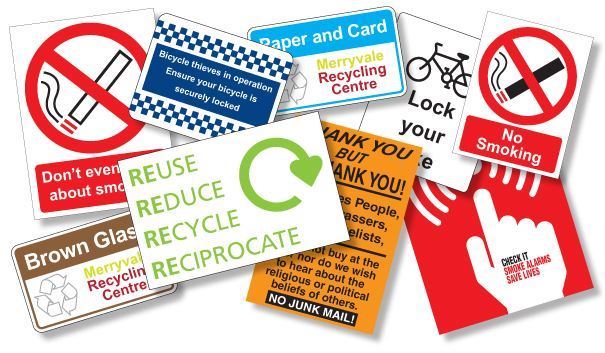 The Sticker Printers can supply a wide range of public sector, local authority and information stickers and labels. Some of our previous orders have been for recycling bin stickers, no smoking stickers, NHS information labels, warning stickers plus many more. Our stickers and labels can be supplied in many substrates and with different adhesive qualities for permanent, peelable or self cling applications.
Some of the uses our stickers have provided for local councils, police authorities, the fire & rescue service, the NHS and local authorities................
Bin and waste management labels - bin advice labels, allowable waste stickers, refuse collection information stickers, waste collection calendar labels, recycling box info labels
Cyclists stickers - reminder to lock up their bikes
No cold caller - door stickers to deter salesman
Smoke/CO2 alarm - test alarm reminder stickers
No litter labels
No smoking stickers
If you're a public sector organisation, a local authority or county council and require stickers designed for specific campaign please contact us at sales@thestickerprinters.co.uk.